a couple things.
1) I am a fan of the show
Intervention
on A&E. It's brilliantly crafted and handles the enormity and delicacy of each situation with grace. While ridiculously entertaining, it still manages to not feel exploitative. One episode features Daniel, a young man who became addicted to meth while trying to deal with the emotional difficulties resulting from his childhood molestation. There was nothing funny about his situation.
However...
had he known his intervention was happening on this specific day, he probably would have chosen a different hat.
(
not funny
Collapse
)
2) Every single morning, I am made to be a little it happier by something called
The Daily Puppy
I know it's a simple joy, but it means a lot to start my day with a new cuddly face staring at me from my google homepage. Today's new friend was Ricky Nelson.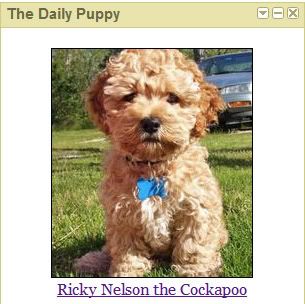 (
and now the creepy part
Collapse
)
3) I am bad at netflix. I seldom find time to sit down and watch a movie, and when it finally happens, there is no guarantee that I will be in the mood for the specific three I selected ages ago. I have had
The Conversation
since the beginning of January. I finally got angry enough at myself to clear an evening and plan nothing but to watch it. I ran into one slight problem. There were audio glitches galore. Sporadically, lines and music were garbled, devouring entire exchanges between characters. I got angry at myself, which proved easy. How could I be so stupid to leave a dvd in my inferno of an apartment for months with no protection but a thin paper sleeve? I realize that this movie appears to be about surveillance, making audio distortion an interesting choice placing the viewer directly in the perspective of those onscreen, but that can't be it. I considered it. I reconsidered it. I must be the one at fault. I must have broken the dvd. I returned it. I'm an idiot.
4)
Roberto Alomar
is performing in the LA Improv Festival. We have a cagematch Monday June 2nd @ 11:30 in the Dick Box Theater. We also have a show Saturday June 7th @ 8:00 in the Dick Box Theater. But you probably already know that thanks to
popomohaha
. These times are exciting times.
Current Mood:
chipper